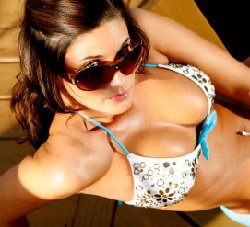 Augmentation mammaplasty procedures most frequently involve the placement of breast implants. These techniques have advanced significantly, offering patients more choices than ever before with the added benefits of increased safety. As a result, augmentation mammaplasty is the most widely used plastic surgery procedure in the United States.
The procedure is designed to enhance the shape and size of your breasts, providing an overall boost to your self-image and confidence. As the saying goes, when you look good, you feel good.
Breast implants come in many shapes and sizes but generally vary between saline and silicone composition. Saline implants were once the most popular choice far and away, but modern silicone implants are considered safe and were FDA-approved almost a decade ago. Silicone offers patients an increased in choices with texture and shape and are commonly considered to provide a more natural look and feel.
For more details about augmentation mammaplasty techniques and all options, contact our highly experienced plastic surgeon Dr. Ritu Chopra to set up a consultation at our exquisite Beverly Hills Plastic Surgery practice.