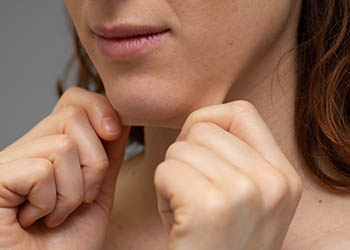 Weight loss has hit its latest trend with Ozempic. This medication is a semaglutide medication that can produce powerful fat-loss results. It has gained incredible popularity lately across the nation, and many people are seeing fast and profound weight loss.
So, what is Ozempic face? For many people who have seen rapid results with this treatment, the fat loss in their face has caused a gaunt, hollow look, making them appear prematurely older than they are. A variety of facial aesthetic treatments could help reverse this effect.
Popular Medical Weight-Loss Treatments
Ozempic isn't the only type of this medication on the rise in the weight loss community with unintended aging results like Ozempic face. Another semaglutide brand called Wegovy and an alternative medication tirzepatide, sold as Mounjaro, have had similar effects. These medications, which were originally developed as diabetes treatments, are administered via weekly injections, and patients usually start to see weight loss after only about two weeks. Semaglutide and tirzepatide both work by aiding metabolic control, appetite suppression, and increasing energy levels creating a weight loss result by stimulating natural processes in the body. Many people who use these meds successfully lose as much as 10 percent of their starting body weight.
How These Treatments Affect the Face
A quick web search for Ozempic Face or Wegovy Face will show that this phenomenon is becoming more prevalent as the technique is more frequently used for weight loss. While a bit of loose skin might be expected with extreme weight loss, there is a slightly more complex issue at hand with the occurrence of facial fat loss after semaglutide and tirzepatide use. When the face loses fat rapidly, elasticity is affected, and the skin becomes thinner and loses some of its luster, producing the Ozempic face appearance. This is due to the essential fatty acids becoming depleted and harming the skin's barrier functions. The skin may begin to appear sallow and dull when elastin and collagen production is disrupted.
Popular Treatments to Combat Facial Fat Loss
For many people who have experienced life-changing weight improvement, facial fat loss is worth it. But is there a way to address the gaunt, dull look of Ozempic face so you can fully enjoy the new you? The good news is there are a wide variety of cosmetic treatments for women and men that can safely and effectively improve or reverse the Ozempic face effects of facial fat loss and restore confidence.
Facelift and Neck Lift
When more than 10% of body weight is lost quickly, the impact of facial fat loss is often significant, resulting in Ozempic face. In this case, a facelift or other facial corrective surgical procedure is necessary. This could also mean that a facelift may be warranted sooner than is typical. Women or men in their 40s might be ideal candidates instead of waiting until their 50s or 60s. A traditional facelift or a deep plane facelift can work to tighten loose skin, fill in hollow areas, and smooth deep lines and wrinkles. If the neck and jawline area has been affected, a neck lift will also help to reverse the sudden signs of aging. In addition, if a patient's lip and mouth area have shown signs of facial fat loss, a lip lift can do wonders for restoring a youthful, supple appearance.
Facial Fat Grafting
Facial fat grafting may be used in less severe cases and is a less invasive option than surgery. If your main concern is hollow or sunken areas, fat can be harvested from other areas of the body and injected into the face providing a natural, long-lasting result. Facial fat loss in the midface is one of the main indicators of aging, and replacing that with your own fat cells is a safe and effective way to reverse the effects of Ozempic face.
Skin Rejuvenation
Another option for facial fat loss, especially when a lack of skin tightness is the primary issue, is skin rejuvenation or resurfacing techniques. There are a variety of laser-based treatments which can restore loose skin through minimally or non-invasive techniques. Techniques including Morpheus8, Profound RF, or Renuvion can improve facial appearance through instant skin toning results as well as collagen stimulation which will provide ongoing, restorative results.
Don't Let a Correctable Side Effect Steal Your Success
Many people have found the answer to years of weight loss struggles with the help of semaglutide and other treatments. But, while enjoying their body transformation, they may end up struggling with the new, unwanted challenge of facial fat loss. The best way to start on the path to correcting and reversing this concern is to consult with qualified plastic surgeons like those at Plastic Surgery Institute. At Plastic Surgery Institute, home of our experienced Beverly Hills plastic surgeons we will help you determine the most optimal treatment for you and your particular aesthetic needs.