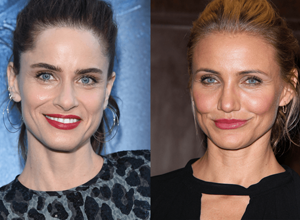 Celebrity makeup artist Kimara Ahnert is known as being the go-to New York wedding makeup guru, showing up frequently behind the scenes to work her magic for the most buzzed-about nuptials. Her clients have included the likes of Gwyneth Paltrow, Cameron Diaz, Anne Hathaway, Catherine Zeta-Jones, and Amanda Peet, and, even if you aren't part of the Hollywood crowd or have bridal on the brain, her Upper East Side studio is a non-pretentious place for anyone looking for good skin and "you-but-better" makeup.
One thing she's big on for creating a flawless face (hint: it's not foundation): A healthy-looking complexion where brightness and volume play the two biggest roles. "Most people think fullness and vitality are only available to those who can afford injectables, but that's not the case. Many of my clients and celebrities who walk the red carpet make good skin care products and skin care treatments part of their regular routines. We've even seen celebrity clients at my skin care studio who put specific skin care treatments into their contracts, with the studios or TV shows footing the bill while filming."
Ahnert stands by the fact that it's not completely impossible for the non-Hollywood sect to get similar treatments and results—minus a movie deal. "Women can get oxygen facials, microcurrent lifting treatments and hydrofacials to deliver these healthy glows and stimulate circulation, increase collagen and replenish hyaluronic acid."
Radiant skin is also a prerequisite for the runway, as Marius Morariu, co-founder and president of Tracie Martyn (clients include Kim Kardashian, Dakota Johnson, Yolanda Hadid and Bella Thorne), points out and says there is a sort of "unspoken rule" where, in addition to production companies paying for actors and actresses to achieve good-skin goals, agencies often do the same for models.
"Our Red Carpet Facial [a mix of microcurrent and LED lights] has been known to be a pre-runway, pre-photoshoot, pre-movie-premiere/award show and pre-filming requirement."
Of course, these skin-perfecting efforts naturally extend into plastic surgeon and dermatologist offices. The Beverly Hills plastic surgeons Andrew Ordon, MD, and Ritu Chopra, MD, treat a lot of A-list celebs—with hydrating facials and brightening peels that help address, fine lines, sun damage and give skin the ultimate glow making up the most popular musts. Not surprisingly, stars also "love to stay on top of Botox Cosmetic, fillers and Thermage, which helps stimulate collagen and tighten the skin. Cryotherapy has been a really big hit also lately."
As for the contractual treatment that is requested most often? Beverly Hills, CA, dermatologist Rhonda Rand, MD, says that, in her opinion, it is Clear + Brilliant laser.
"It makes skin glow and there's not downtime. It's everyone's favorite!"