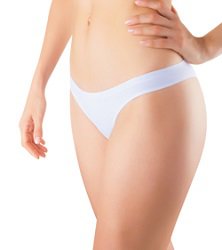 A full Abdominoplasty treats the adipose tissue and skin above and below the belly button. This means that the area treated is from the bikini line up to the bottom of the ribs. This type of abdominoplasty or tummy tuck is preferred when there is extra tissue above and below the belly button.
The design and position of the abdominoplasty incision is determined by the patient after the consultation. Some patients prefer a more linear incision, but most patients prefer a curved one, which is in the shape of a smile. The advantage of the curved incision is that many bathing suits are cut high on the sides, which will conceal post-surgical marks in most patients.
In the full abdominoplasty procedure, there is sometimes also a circular incision around the belly button. This incision gives the plastic surgeon access to the higher abdominal tissues and helps them keep the belly button in the same relative position after surgery.
Find out more about the full abdominoplasty by arranging a consultation at the Beverly Hills Plastic Surgery practice of board-certified plastic surgeon Dr. Andrew Ordon.